This season I've been board testing for Rome Snowboards. The board I was supplied with has no graphics or name on it, but you can tell it's a Cross Rocket. Read on for the review I just sent to Rome…
Overall statement: Best all-around board I've ever ridden, for my style of riding… but then I spend about 40% of my time off-trail, 25% smashing groomers, 15% in the pipe, 15% hitting jumps and only 5% on rails.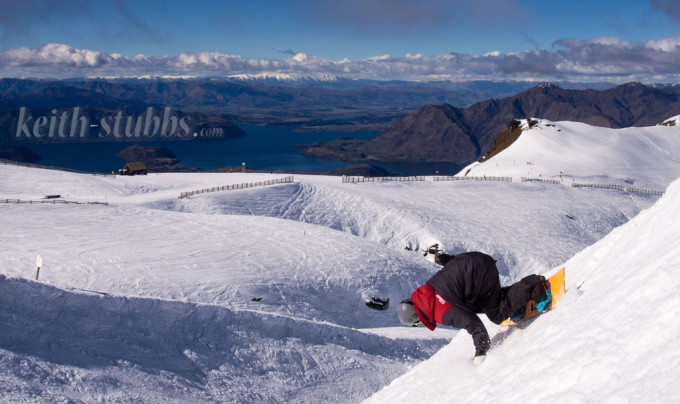 On-trail: 8/10
Camber makes a big difference to high-end performance. Full stop!
Being able to hold an edge at speed is key, especially in NZ where the snow can go from icy to slushy and back to ice in a short time – on a groomer! While the board's flex is a little soft to really hold a high edge at maxiumum speed, its pretty impressive pop helps you launch rollers with ease, yet it is still strong enough to stomp late back-1s when riding fast. Anything stiffer would sacrifice that great pop!
The best feature when riding on-trail is the shape – the 3D No Hang-ups camber (basically a slight early-ride spoon effect on the nose and tail) changes the shape of the side-cut the board is tilted on to an edge. This means when you really lay over a euro carve (I mean whole body laid out on the snow), the side-cut gets super-tight and your turn becomes so small it's hard to believe when you look back at your track.

Off-trail: 9/10
The 3D No Hang-ups camber is the bomb here!
The camber helps you hold your edge in variable conditions, but the 3D nose helps you pull into turns easily in choppy snow, providing a degree of that surfy feeling. The 3D tail allows you to throw out laid-back slashes and little tail-smashes everywhere, no matter what speed you're travelling at and how small or big the banks or lips are.
The scoopy nose also makes powder riding almost as easy as riding a full rocker, but with that you lose a little contact edge so keeping your speed when traversing in sketchy conditions can be somewhat tricky.
Jumps: 8/10
Stability and pop – great combo!
The flex pattern of this board is perfect for hitting almost all sizes of jumps. It's poppy enough to put the little extra in when you realise you're going a little too slow to reach the sweet-spot, and stable enough when you land a little too deep.
Where I think this board will struggle slightly is hitting 80 footers, as the contact surface is decreased due to the shape, meaning there's a little less surface area underneath you for stomping those big spins. That said, it worked great for me on 40 footers.
Rails: 6/10
Poppy but not too playful!
Easy to pop up onto street-style features but not soft enough to provide forgiveness when things go a little wrong. While I loved the shape of the nose and tail for many things, holding a nose press on a down bar wasn't one of them – the 3D shape of the nose seemed to make it a little tricky to hold straight. Still, this board did all I wanted it to do on rails.
Pipe: 8/10
Holds a great line and helps you spin out of the lip!
Here's another aspect of riding that was really conducive to the 3D No Hang-ups camber, halfpipe! I loved riding this board in both Cardrona's 22ft super pipe as well as their 12ft mini pipe. While the side-cut gets tight when you put it up on edge, the camber profile still allows you to ride the board flatter up the walls – something I am always working on with my backside airs.
The same 3D shape also allows you to spin out of the lip easily as the edge at the tail doesn't hook on the lip of the pipe. Perfect for working on those spins in the mini pipe when you have less time in the air and need to give it a bit more huck!
Suggested improvement: Get rid of the die-cut base – the model I've been riding morphed slightly after two weeks of riding and you can feel a gentle ripple along the base now. Plus die-cut bases just never seem to be durable enough with all these rocks in NZ!