The Freeski and Snowboard Junior Nationals are on right now at Cardrona and I was lucky enough to be involved as one of the judges for the older age groups in the snowboard slopestyle.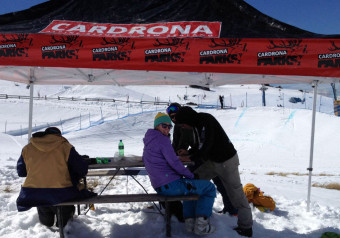 We had three age groups to judge: 12-14, 14-16 and 16-18, both male and female. The judging was based on overall impression, but we were specifically looking for clean tricks, solid landings and good flow through the course. The older boys were certainly impressive with 720s being the minimum needed to get on the podium, however first place went to Carlos Garcia Knight with a double under flip on the third jump in Cardrona's famous triple line.
All-in-all, it was a fun day sitting in the sun and soaking up some rays, watching the up-and-comers in the NZ snowboard world, while being pressured from the Head Judge to give quick and accurate scores… contrasting but fun!