In June 2009, just prior to the NZ winter season, I worked closely with Cardrona Marketing (and members of the Tactic Group team) to establish and implement a social media monitoring and recording system, and create Cardrona's first Twitter and Facebook marketing strategy.
This project was succeeded in January 2011 with a quick strategy and design project for one of Cardrona's many web sites, the Cardrona Instructor Training Centre (ITC).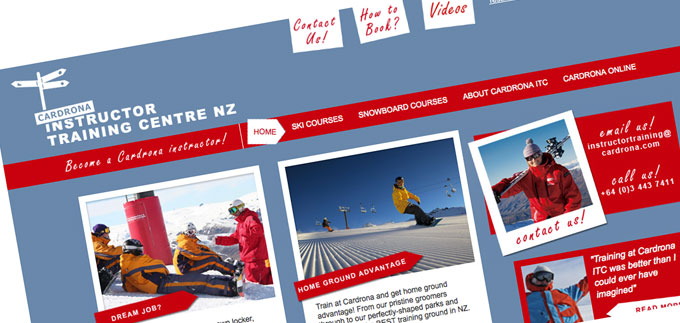 As the manager of the project I was responsible for tasks, timelines and milestones, as well as elements of the design, content and strategy. We researched the needs of the target audience and matched them to Cardrona's business goals. From this we created an information architecture that would become the site map and help us to create effective wireframes. My intimate understanding of the target audience (due to the fact that I am also a part-time Snowboard Trainer within the ITC) helped us perform the research quickly and implement a very accurate strategy.
A local designer, Laura Ferguson, had been contracted for the logo and branding already, so we continued to utilise her skills to create some of graphical elements on the site itself.
The site was built in Joomla, as requested by Cardrona. While not our preferred platform, the Cardrona Marketing team were already familiar it, as their other websites had been previously built using this CMS.